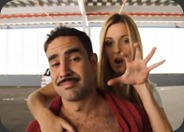 Many of you may have read my previous Anton Taylor post when he first won INTERNATIONAL MAN OF MOVEMBER, but just in case you missed it. Here. Click that.
Now that you're up to speed, let me reveal something to you that I hope you aren't climbing a ladder when the full impact of it hits you. Are you off the ladder yet? That's better.
Anton Taylor is BACK. The CHOSEN CHARNA himself has once again accepted the challenge to grow the world's most incredibly intense moustache and win INTERNATIONAL MAN OF MOVEMBER TWICE!