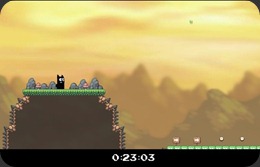 Christ, I think I just hit the motherload of time wasters!
I started trying to write this post at about 11 and it's now pretty much 2.30 and I'm STILL playing the fucking time-waster I found.
Quick disclaimer before we continue, I took leave today, otherwise I probably would have been fired outright for killing so much time playing this game.
The game's called "Mr Runner 2" and basically all you do is mission through one level after the next at insane speeds trying to avoid getting skewered alive or plummeting to your death.