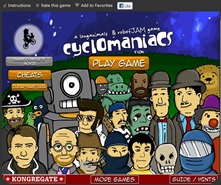 Seeing as it's Friday, Friday, gonna get down on Friday (HA! Good luck getting THAT out your head…), I figured I'd post the most epic work time waster I've come across in a good while, courtesy of @justnormalafro.
Now I know every time I post a work time-waster I claim that it's the most epic one yet, but you have to see this shit to believe it.
The game's called "Cyclomaniacs" and it's by far the most fun you can have whilst stealing time from your employer.
As you probably guessed from the name, it involves unlocking sick characters and levels and pulling off stunts whilst cycling on your badass little bicycle.