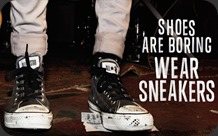 It's competition time again boys and girls and today we are giving away a very special prize courtesy of SlickTiger Industries and Converse that will melt your face off or your money back!
If you're into bands like Zebra & Giraffe, BLK JKS, Shadowclub, Reason and Vigilante then I've got good news because if you win THIS COMPETITION, you'll be seeing them all live next Saturday.
See, Converse (being the badasses that they are) are throwing a MASSIVE party in Joburg at Mary Fitzgerald Square in Newtown next Saturday and I'm giving away a double ticket to the event which includes a trip by motherflippin train from CT to JHB and hotel accommodation on the Sat night.