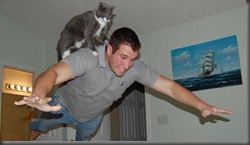 YOU GUYS AREN'T GOING TO MOTHERFUCKING BELIEVE WHAT FUCKING WENT DOWN YESTERDAY! THE CRAZIEST SHIT, LITERALLY THE CRAZIEST SHIT YOU COULD POSSIBLY IMAGINE!
After that mopey "I give up" post I wrote because I'd completely lost hope that I'd ever get tickets to Synergy and get to interview Black Rebel Motorcycle Club (one of my favourite bands of all time), EVERYTHING changed!
Thanks to Mr Dan Nash, the organisers of Synergy, a little badass called Paula K and most importantly, Grant Gelt from New Sound Artist Management I now not only have two tickets to the festival, but a photo pass so J-Rab can get shots from the photo pit and they're doing what they can to arrange an interview on Saturday!
How fucking crazy is that shit?! It just goes to show, if you want something badly enough and throw yourself into it face first (with a cat on your back) sometimes, just sometimes, it actually works out.
Throughout the day one thing after the other was falling into place and then last night, at about 9pm, an email came from New Sound Artist Management saying they'd read my posts and wanted to basically help me get as close to the band as humanly possibly!
If you guys could've seen me last night you would have thought I had actually finally lost my fucking mind. Air punching, screams of "FUCK YEAH!" and practically having a full on seizure is how I spent the better part of an hour.
Then I promptly passed out from exhaustion, woke up this morning and continued the air-punching, seizure-inducing marathon that will probably only stop on Sunday.
This is going to be the best fucking festival EVER! I can hardly sit still I'm so fucking stoked – how the hell I'm going to get through the next 24 hours without physically detonating from excitement is anyone's guess.
Batten the hatches boys and girls, the Tiger's tearin' up Synergy
That was "Weapon Of Choice". They've changed their drummer since recording that video, so you won't see that dude (Nick Jago) behind the kit. But don't be sad, they replaced him with a total belter!
In all my BRMC-inspired obsession, I realise that I've completely neglected to mention the killer SA bands that I'm going to be supporting at Synergy.
There's a shitload of them, so not sure how I'm really going to be able to fit them all in, but here's my festival wishlist:
The Plastics
Shadowclub
Taxi Violence
Zebra and Giraffe
Good Luck
McCree
Sixgun Gospel
Tumi & The Volume
Desmond and the Tutus (it's been WAAAAYYYY too long!)
Isochronous
THE NARROW (HELL'S YEAH!)
Captain Stu (if I survive until the bitter end – please guys, stay to watch these guys, besides being awesome guys, their music is guaranteed to melt faces)
Life, my friends, has a funny way of working out sometimes.
To everyone who made this possible, thank you again, I won't forget this
-ST