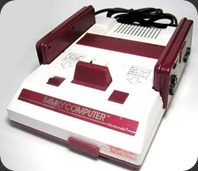 What were those old-school consoles called that flooded the SA market back when we were kids? The NES rip-offs with the red rectangular controllers? "Golden China" or some shit like that?
Anyway, there was a time when all the kids had one (except me. Christ I was deprived) and spent hour after hour mercilessly bashing the buttons to classics like Contra, Megaman and Super Mario, their brains slowly turning to gloop while they forgot how to do basic things like read and go to the loo unassisted.
Well what if I told you they've rolled all those rad old games into ONE?! That's right. Hold onto your balls.