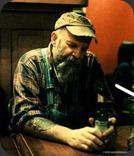 It's just been one of those weeks. Things aren't going quite according to plan and you find yourself staring out windows at the gathering storm wandering where it all went wrong.
You're not alone brother. The Tiger's also been feelin' a little in the dumps lately but the good news is that this too shall pass, and while we're fighting the good fight and waiting for that moment to come, I say let's hang out with my new buddy Seasick Steve.
See, ol' Seasick knows how bad things can get, before he made it he used to busk in the Paris Metro, only finding fame in his late fifties.