In a move that has rocked the online world, Retroviral (arguably one of SA's top online communications consultancies) has been nominated for an Oscar in the "Best Use Of Letters Made From Vegetables In A Company Promo Video" category.
"We got the call from the academy this morning," said Mike Sharman, founder and MD of Retroviral, "it was Nelly Retardo."
Since Retroviral started in 2010, the agency has landed some great campaigns and done remarkable work for brands and initiatives such as the Put Foot Rally, SAB, Nandos, 5Gum and Converse all of which is showcased in an innovative way in their annual showreel videos.
"Our inspiration with the first Retroviral showreel vid back in '11 was to show how the agency has evolved in a visual way by first writing the titles that are shown on-screen in a moleskin, then on a typewriter, then using a Macbook, then on an iPhone," said Sharman.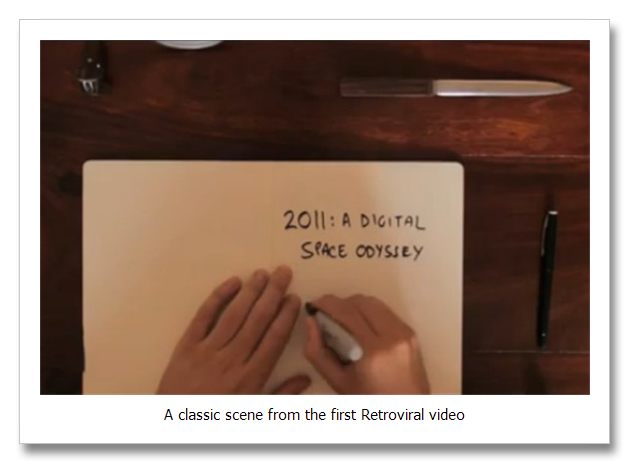 "This time around we stuck with a similar theme, but chose to use a variety of mediums including a cassette tape sleeve, post-its on the bottom of sneakers, alphabet soup and notes stuck to a cork board.
"The coup de grâce though was the vegetable lettering we used at around the 2:30 mark," continued Sharman, "our competition was Mozam-BLEAK when they saw that part."
"For a young agency such as Retroviral, to graduate from the relatively straightforward method of using handwriting and typing in a showreel video to actual vegetable lettering in the space of only one year shows tremendous growth and innovation," said Hawk Koch, President of the Academy Of Motion Picture Arts And Sciences.
Fans and critics alike are all in agreement that Retroviral's chance of bagging the award are exceptionally strong considering the brilliant work the agency did in 2012 and the fact that they are the only agency in the category.
"Twenty-twelve was our best year to date," said Sharman, "we worked with incredible brands, who in turn helped to change some lives – even for a few hours. We made an impact on sales, and we had our name forever etched into a Bronze Cannes Lion, thanks to the creative genius of Black River FC and their Nando's Last Dictator Standing campaign."
Congrats to the Retroviral team: an inspiration to all and a daily reminder of #whywedodigital

-ST