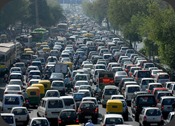 The alarm goes off, you get up, you shuffle off to have a piss, you summon the strength to go through the motions.
In the shower, sleep slides off you, swirls down the plughole. You like the water scalding hot, needles of fire burning into you. It's good to be alive.
You make breakfast, you think about the day ahead.
Hopefully this action, thinking about the day ahead, fills you with purpose and makes you smile and think, "Cool. I got this. I can do this. Piece of cake."